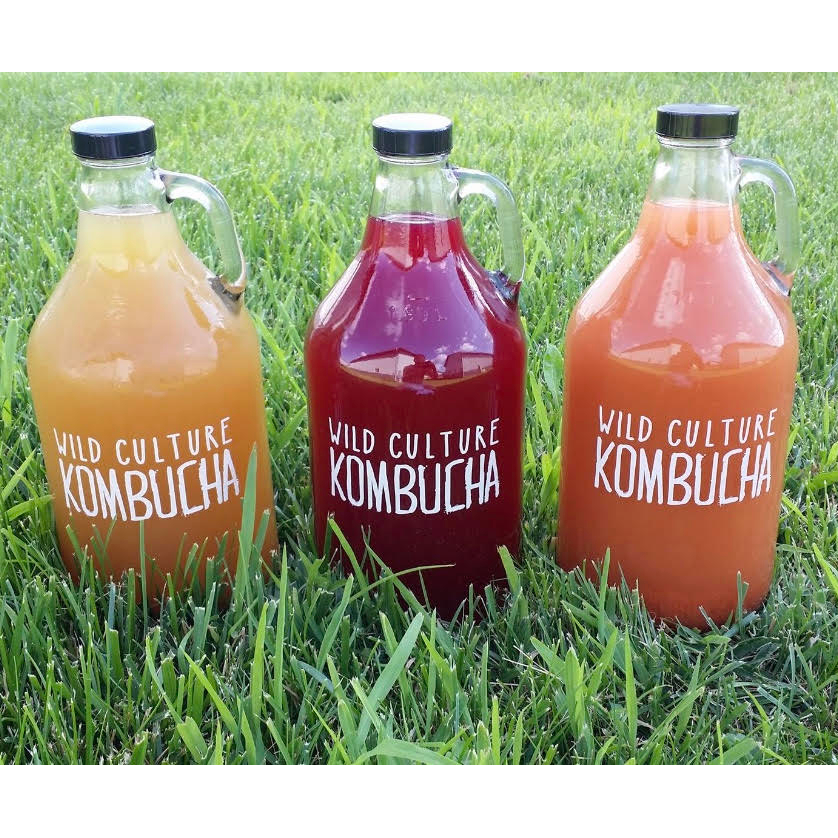 Wild Culture Kombucha
Contact: Kyle Crossett + Brittany Quaid
City: Iowa City, IA,
Phone: 641-218-4016
About Us
Wild Culture Kombucha is a craft kombucha brewery based in, Iowa City. Kombucha is a fermented tea full of live cultures, vitamins, and nutrients. We proudly brew premium, unfiltered, craft kombucha sourcing all ingredients locally & organically whenever possible. Our kombucha is carefully brewed in small batches using organic loose leaf teas, fresh juice, herbs, and spices.

Wild Culture is different from the kombucha currently in stores because we brew our kombucha the full length of time without interruption in the fermentation process. We don't force carbonate or dilute while using only whole organic herbs and spices and in-house freshly juiced juices. Our process is just like the way you would brew at home but on a larger scale. We often say our kombucha is a "home-brew-style". Brewing it this way creates more health benefits and a more balanced product. We never add anything extra. Just booch, juice & herbs! Because simple is better.

We're offering a select variety of kombuchas for purchase at Field to Family. If you'd like a full list of our kombuchas please visit our Taproom at 210 N Linn St, Iowa City.
Practices
We are dedicated to brewing premium, craft, unfiltered kombucha. We don't dilute or strain out probiotics like the other guys. We carefully and consciously source our produce, herbs and spices from local farmers and supplier, and use organic ingredients whenever possible. We support over a dozen local farms and use organic herbs & spices locally sourced from Frontier Co-op. We never use oils, flavors, outside juices, artificial sweetener or stevia in our product. Our kombucha goes through three steps of fermentation creating all natural carbonation. We find brewing kombucha in this way creates more health benefits, a balanced taste and an overall better product. We never cut corners as we have a strong passion for local foods, farmers and our community. We believe in brewing high quality kombucha that we can drink ourselves. And we do!

FAQ:
What is kombucha?
Kombucha is a fermented tea full of probiotics, nutrients, and vitamins. Kombucha has a wide range of health benefits, and is mainly used for digestion and stomach health. Our kombucha contains many strains of live & active cultures.

How much/often should I drink kombucha?
We suggest 8oz - 12oz daily to start. Our kombucha has over 25 strains of raw live probiotics, giving you more benefits than a probiotic pill or commercial kombucha.

How long does it last? How do I store it?
Kombucha is a natural preservative and lasts much longer than beer. Because it is fermented, it will last indefinitely as long as it is refrigerated. After opening it will lose its natural carbonation within a month, but will never lose its health benefits.

Where else can I buy Wild Culture Kombucha?
Our Taproom & Lounge is located at 210 N Linn St, Iowa City. You can also find us on tap at local restaurants, breweries, and grocery stores. Visit www.wildculturekombucha.com for a list of of places that offer our kombucha on tap.